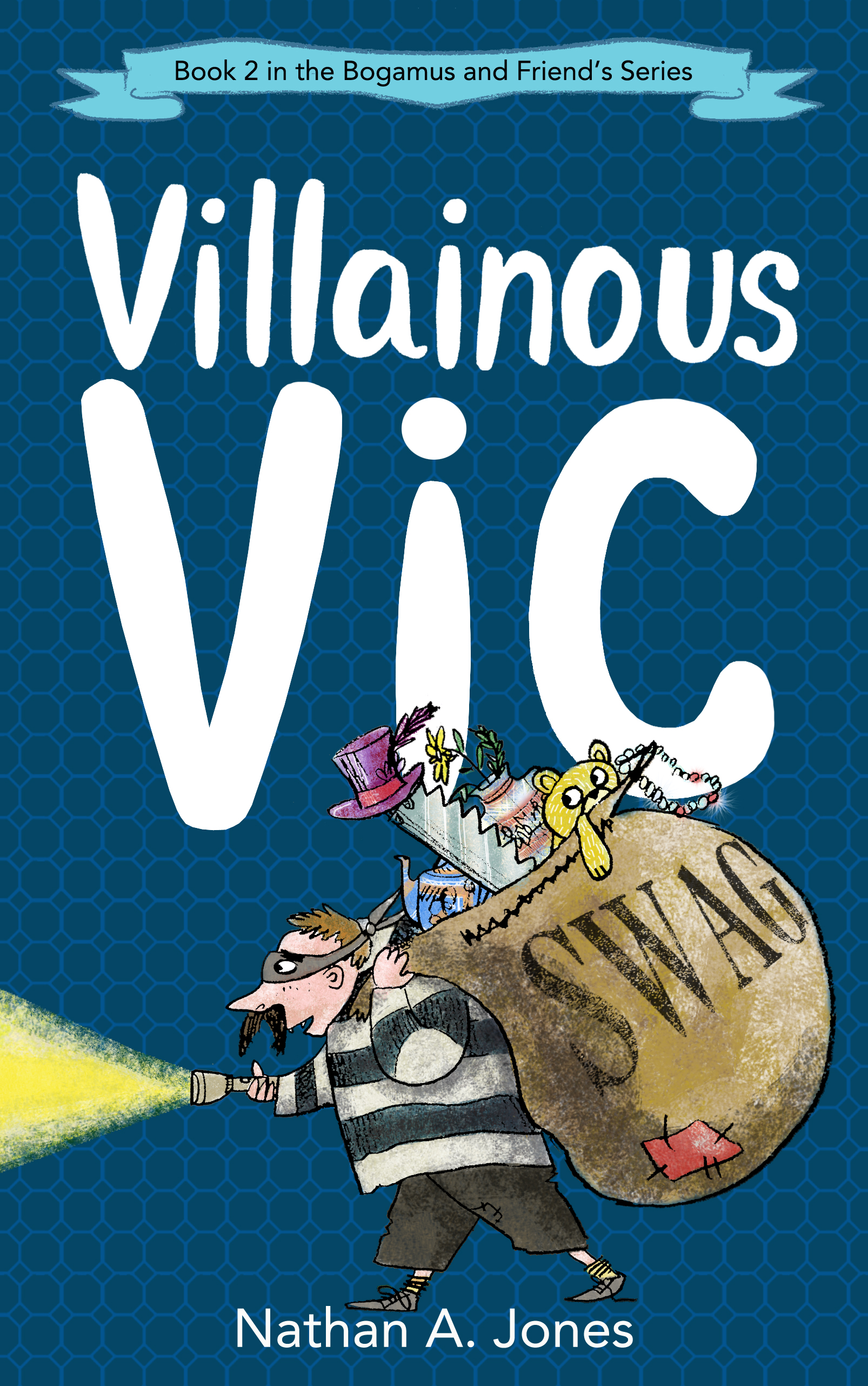 ---
---
---
Synopsis
---
---
They call him Villainous Vic and say that he is the most villainous villain in the history of villainy. Pinching things is what he does best. He'll vaporise your vitals with vip, vim and vigour. He's a veteran versed in vanishing the value of your vault. Verified as a viable Viking, vetted for vice and a victor at vacating your villa. Verily our verdict has him voted the most vicious vermin that ever vexed the vigilant and valiant.
The quiet town of Bealey is brought to its knees when Villainous Vic escapes from prison. But an escaped criminal is not the only problem faced by the Bealey police force as Professor Rawbling, Bealey's own nutty inventor, is demanding round-the-clock police protection for his latest prized invention and if that wasn't enough there is also the annual police jumble sale to organise. Squaring up against these challenges is the injury prone Sarge and the new recruit police constable George. No doubt the long arm of the law will need some help in order to catch Villainous Vic. But the only help that is available comes from Edith and Vera, who seem to be two perfectly normal elderly ladies. But then again in Bealey things are rarely as they seem.
Just how villainous is Villainous Vic?
Will Villainous Vic be able to overcome his fear of big, green trolls that want to do bad things to him?
What is Professor Rawbling's secret invention?
Will the Bealey police be able to keep Professor Rawbling's invention safe?
Will Villainous Vic escape the long arm of the law?
Will the jumble sale go ahead as planned?
These questions and many more will be answered in Villainous Vic, the hilarious and exciting follow-up to Bogamus the Troll.
Suitable for children aged seven to twelve.
---
---
Categories:  Fiction » Children's books » Law & Crime » Readers / Chapter Books
---
---
Download Formats
---
---
---