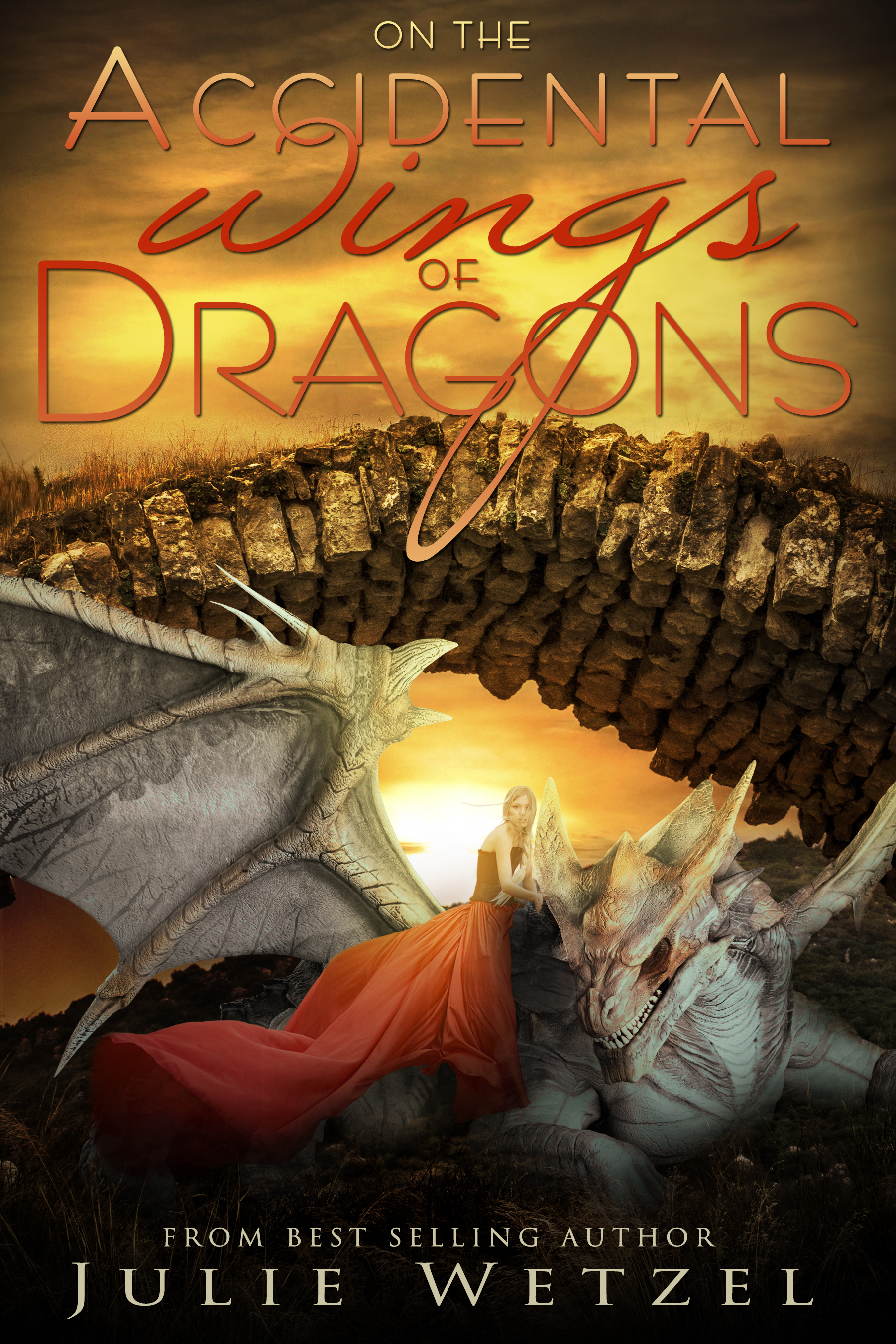 ---
---
---
Synopsis
---
When Michael investigates a case of disappearing dragons, he ends up locked in a dungeon — until the dragon king's beautiful sister Carissa helps him escape in this fiery adventure!
"Action packed with amazing characters, intense passion and high stakes, On the Accidental Wings of Dragons by Julie Wetzel is an engrossing, thoroughly entertaining read – a complete package of incredible action and sizzling romance." ~Melinda Hills for Readers' Favorite – 5 stars
When Michael Duncan is sent to investigate the disappearance of several dragon subjects, he finds himself in a bind. Locked in a dungeon, his only hope lies wrapped in a bundle of cloth tossed at his feet. One kiss and his life is changed forever. Hunted by his own people for crimes he didn't commit, Michael has to learn a whole new life at the hands of a beautiful woman. Can she help him clear his name, or will just being in her presence get him sentenced to death?
Carissa Markel doesn't know who this man chained to the wall is, but he's her only chance for escape. She has power, but, born without a voice, she lacks the means to wield it. One choice, made in desperation, sends them running for his life. Does she have the strength to help him clear his name? And what will her brother, the King of Dragons, do if he finds out what she's done? That's immaterial, the real question is… can she keep her hands off him long enough to find out?
The Dragons of Eternity series is perfect for fans of paranormal romance and fantasy romance. Readers can enjoy a different sizzling love story set within the same world in each Dragons of Eternity novel.
Novels in the Dragons of Eternity series by Julie Wetzel:
* On the Accidental Wings of Dragons
* For the Memory of Dragons
* For the Heart of Dragons
* A Castle for Dragons
Also, check out the best-selling Kindling Flames novels.
After landing a job as assistant to a handsome CEO, Victoria Westernly feels like her life is finally on the right track. But when she discovers her new boss is the city's most powerful vampire, she'll have to decide whether her attraction to him is worth the risk…
* Kindling Flames: Gathering Tinder
* Kindling Flames: Flying Sparks
* Kindling Flames: Smoke Rising
* Kindling Flames: Stolen Fire
* Kindling Flames: Burning Nights
* Kindling Flames: Blazing Moon
Available in September 2017: A new and sexy, laugh-out-loud romantic comedy from Julie Wetzel.
* White Lies
---
---
Categories:  Fiction » Fantasy » Urban
---
---
Download Formats
---
---