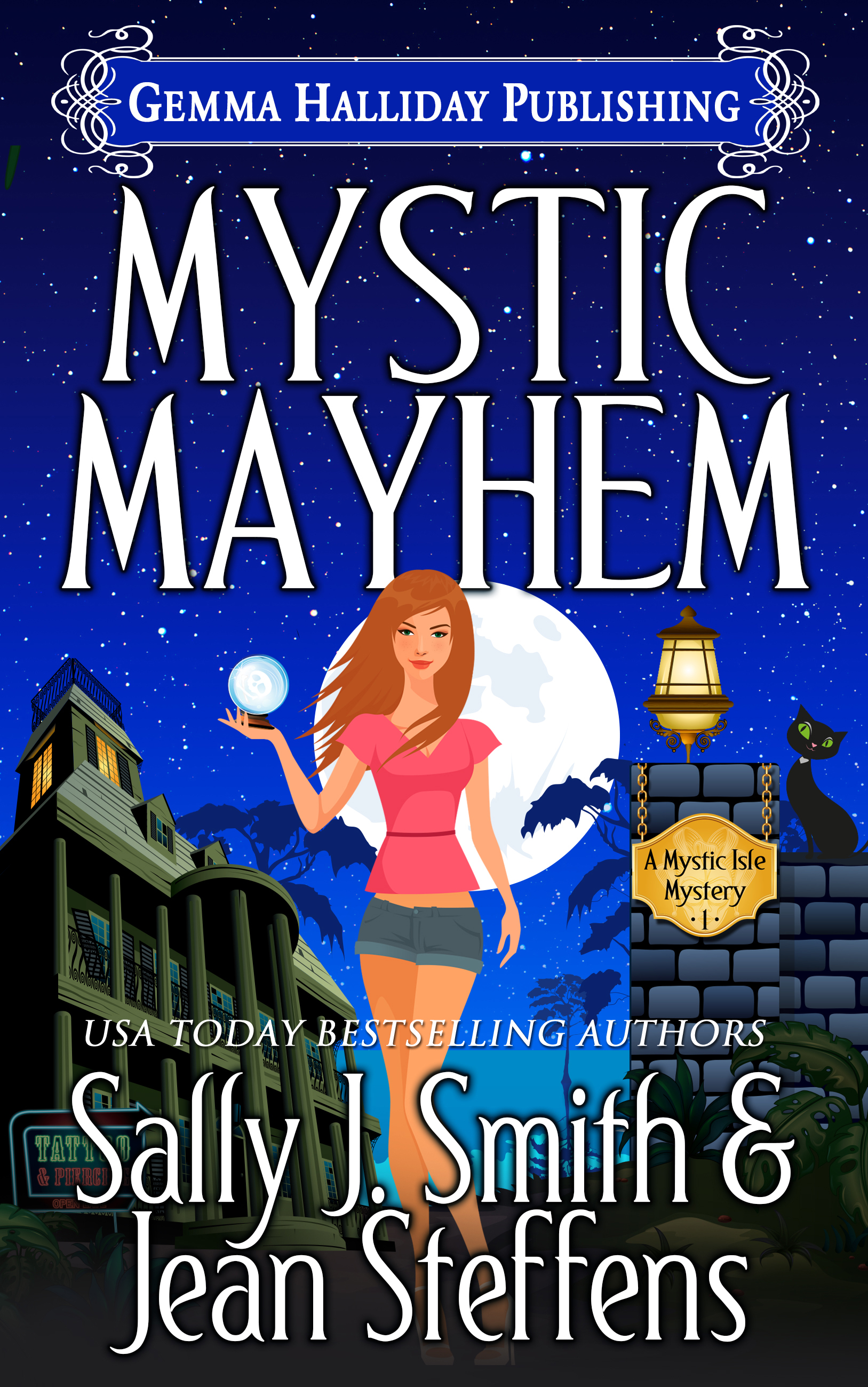 ---
---
Synopsis
---
---
From the USA Today bestselling writing team of Sally J. Smith & Jean Steffens comes a hilarious first book in a brand new mystery series that will keep you guessing until the end…
Melanie Hamilton is not your average artist. She brings home the bacon by inking tattoos at New Orleans's Mansion at Mystic Isle, a resort in the middle of the bayou that caters to fans of the peculiar and paranormal, but her true passion comes alive when she volunteers restoring Katrina-ravaged landmarks. Between her day job, her restoration work, and selling her paintings in Jackson Square, Mel's life is more hectic than Bourbon Street on Fat Tuesday. But when a guest of the resort, a millionaire's widow, is poisoned, and Melanie's close friend is arrested for the murder, things go from hectic to downright dangerous.
Mel joins forces with the resort's delish manager, Jack Stockton, to prove her friend's innocence. Soon they find themselves dealing with séances, secret passages, the ghost of the millionaire himself, gators, swamp rats, and a sinister killer who proves that not everything is what it seems in the Louisiana bayou.
Come on along, and get your creep on.
Mystic Isle Mysteries:
Mystic Mayhem (book #1)
Mystic Mojo (shorts story in the Killer Beach Reads collection)
Mystic Mistletoe Murder (book #2)
Mystic Mischief (book #3)
Mystic Deception (book #4)
What critics are saying about Sally J. Smith & Jean Steffens:
"A great series and smart plot told at breakneck pace…great characters, sexy, tough, intelligent, and witty….the perfect companion for the beach, planes, trains and everything else in between."
—The New York Journal of Books
"Smart and sassy. Classy with a twist of wry humor and just enough sentiment and romance to reel you in and keep you hanging until the end. Smith and Steffens, partners in crime, have struck gold.
—Kathleen M. Rodgers, author of Johnnie Come Lately and The Final Salute
"Stealing the Moon & Stars is an impossible book to put down. Jordan and Eddie are the best mystery solving duo since Nick and Nora. Is there a fire alarm ringing? Because their relationship is smokin' hot!"
—Jenn McKinlay, New York Times bestselling author of the Cupcake Bakery Mysteries and the Library Lover's Mysteries
"The action and sexual tension are as hot as an Arizona summer. The Shea Investigations team put their lives, and their hearts, on the line in this action-packed crime novel."
—Lesa's Book Critiques
"This mystery unfolds with humorous zingers. Tingling with sexual tension, this is a satisfying read. I highly recommend it!"
—Nancy Redd, author of The Canyon's Edge
---
---
Categories:  Fiction » Mystery & detective » Cozy » Women Sleuths
---
---
Download Formats
---
---