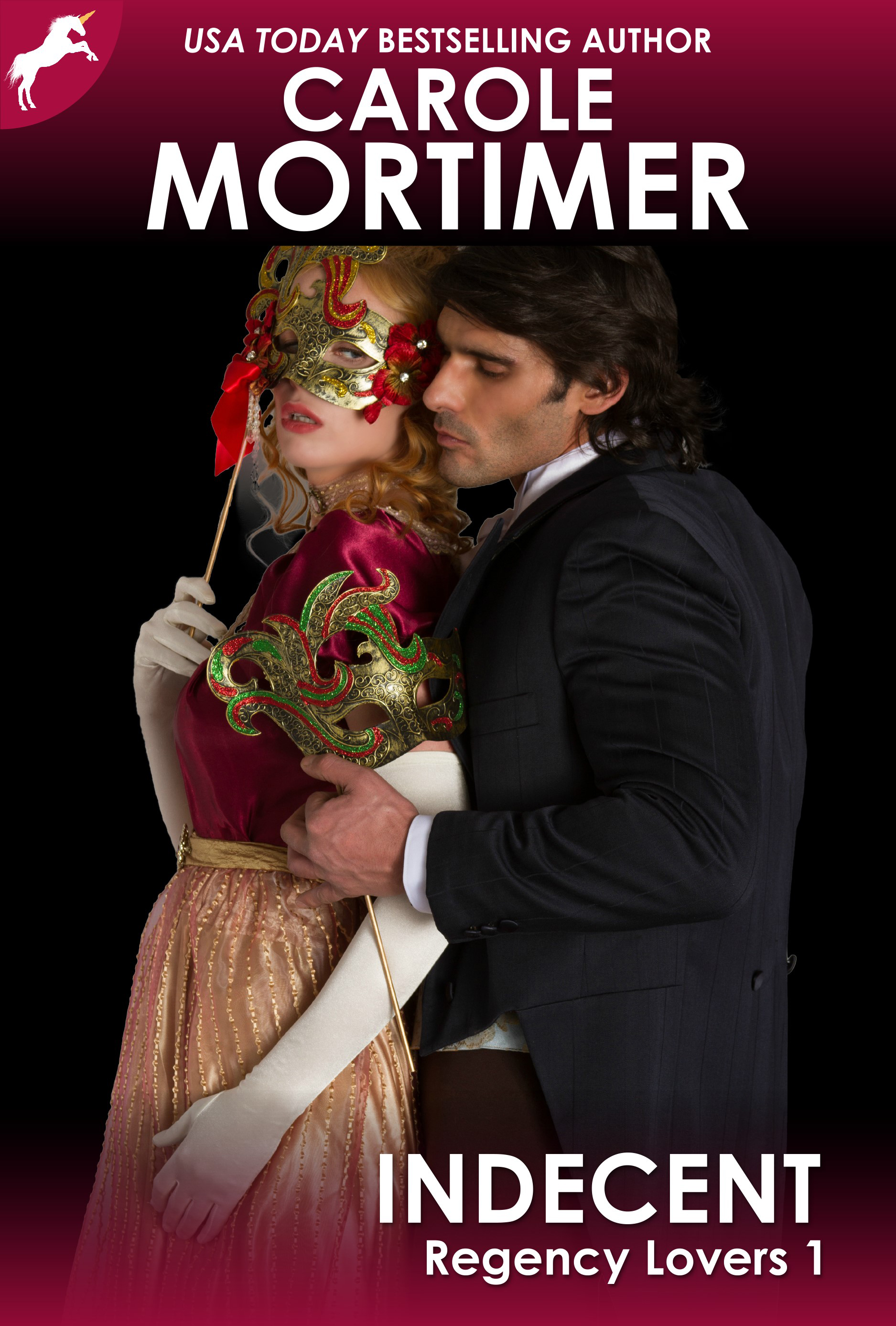 ---
---
---
Synopsis
---
---
When the Duke of Hawkwood offers marriage to the impoverished Emma Harris she can hardly believe her good fortune. Seeing him a compromising position with another woman that same evening tells her exactly why he chose her; he intends to use their marriage to hide his affairs with other women. The duke denies her accusation, and if Emma thinks Adam will accept her refusal she is sadly mistaken. 
This 26,000 word novella was previously published in A Regency Duo by Carole Mortimer & Angelique Armae. There have been no changes or additions from the original novella.
INDECENT (Regency Lovers 1) is the 1st book in USA Today Bestselling Author, Carole Mortimer's, NEW Regency series.
Impoverished Miss Emma Harris can hardly believe her good fortune when Adam Stirling, the handsome and imposing Duke of Hawkwood, asks her father for her hand in marriage.
However, she feels thoroughly humiliated when she attends a masked ball that very same evening and sees Hawkwood in a compromising position with a married woman. A very compromising position, in fact it is positively INDECENT.
Angry and upset, Emma confronts Hawkwood with what she saw, accusing him of only wanting to marry her as a shield to his affairs with other women. Accusations the duke denies.
Half in love with the arrogant Hawkwood, Emma is devastated when she learns the real reason he asked her to marry him.
But if Emma thinks Adam is the type of gentleman to meekly accept her rejection, she is about to learn exactly how INDECENT he can be when he wants something as deeply as he now wants Emma.
More books by Carole Mortimer:
NEW Regency Lovers Series:
INDECENT (Regency Lovers 1)
OBSESSION (Regency Lovers 2)
CRAVING (Regency Lovers 3)
More books to come in this series
Steele Protectors – NEW Contemporary Romantic Suspense Series COMING SOON
LOGAN (Steele Protectors 1)
More books to come in this series
Regency Sinners Series:
Wicked Torment (Regency Sinners 1)
Wicked Surrender (Regency Sinners 2)
Wicked Scandal (Regency Sinners 3)
Wicked Deception (Regency Sinners 4)
Wicked Captive (Regency Sinners 5)
Wicked Temptation (Regency Sinners 6)
Wicked Sinner (Regency Sinners 7)
Wicked Christmas (Regency Sinners 8)
Bk 8 Completes this Series
Dragon Hearts Series:
NATHANIEL (Dragon Hearts 1)
DERYK (Dragon Hearts 2)
BRYN (Dragon Hearts 3)
DYLAN (Dragon Hearts 4)
GRIGOR (Dragon Hearts 5)
GARRETT (Dragon Hearts 6)
AERAN & RHYS (Dragon Hearts 7)
Regency Unlaced Series: 9 book Regency romance series
Contemporary Knight Security Series – spin-off to Alpha Series: 7 book Romantic Suspense series
Contemporary Alpha Series: 8 book Romantic Suspense series
Carole Mortimer has written 240 books in Regency, Contemporary, and Paranormal romance. In 2015 she became the Recipient of the prestigious Romance Writers of America's Lifetime Achievement Award. She was awarded a Romantic Times Career Achievement Award in 2017. She is an Entertainment Weekly Top 10 Romance Author—ever. A 2014 Romantic Times Pioneer of Romance author. She was also recognized by Queen Elizabeth II in 2012, for her "outstanding service to literature".
---
---
Categories:  Fiction » Romance » Gothic » Regency
---
---
Download Formats
---
---
---